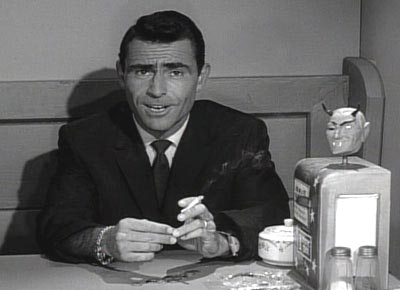 It's time again for the Syfy Channel's annual Independence Day Twilight Zone marathon. If you've spent any time with us here in the Vortex, chances are you'll be catching some or all of the program in between the fireworks and barbeque. Below you will find a program schedule complete with our grade for each episode. We've covered several of the episodes in our ongoing episode guide so click on the yellow highlighted episode titles to jump to individual episode pages for heaping portions of information and commentary.

First, the news: Entertainment Weekly unveiled their 100 greatest TV shows in this week's issue, which was devoted to listing their picks for the 100 greatest movies, TV shows, music albums, novels, and plays. The Twilight Zone checked in at a respectable #13 with this write up: "Rod Serling's anthology series of supernatural tales blew the minds of a generation, and provided the inspiration for countless variations on its sci-fi tropes."
Also: Today marks the 130th birthday of Franz Kafka, an author whose influence on
The Twilight Zone
was profound, especially in episodes such as "The Obsolete Man," "Shadow Play," "A World of Difference," and many more. Nearly every quality
Zone
episode feels like it could have come from Kafka so if you're a fan of the show you'll certainly like his fiction. If you've never read him it's time to do so and if you have it's time to revisit his work. Enjoy the marathon, everyone!
Syfy Channel's Twilight Zone Marathon:
Check out the Syfy Channel's Twilight Zone page

here



All times Eastern. Note: If you're only able to catch a little of the marathon, catch it somewhere in the 2:00 p.m.-11:00 p.m. block. It's all killer and no filler.

8:00 a.m.-

"Walking Distance"

(A)
8:30 a.m.- "The Shelter" (C)
9:00 a.m.- "The Old Man in the Cave" (C)
9:30 a.m.-

"People Are Alike All Over"

(C)
10:00 a.m.- "Probe 7 Over and Out" (D)
10:30 a.m.- "A Kind of Stopwatch" (D)
11:00 a.m.- "A Hundred Yards Over the Rim" (B)
11:30 a.m.- "A Game of Pool" (A)
12:00 p.m.- "A Most Unusual Camera" (C)
12:30 p.m.- "Stopover in a Quiet Town" (B)
1:00 p.m.- "Number Twelve Looks Just Like You" (B)
1:30 p.m.- "I Sing the Body Electric" (C)
2:00 p.m.- "Five Characters in Search of an Exit" (A)
2:30 p.m.-

"Nick of Time"

(A)
3:00 p.m.- "Kick the Can" (A)
3:30 p.m.-

"Where is Everybody?"

(B)
4:00 p.m.- "It's a Good Life" (A)
4:30 p.m.-

"The Hitch-Hiker"

(A)
5:00 p.m.-

"Third From the Sun"

(B)
5:30 p.m.- "The Invaders" (A)
6:00 p.m.- "The Masks" (A)
6:30 p.m.- "Living Doll" (A)
7:00 p.m.- "The Obsolete Man" (B)
7:30 p.m.-

"Time Enough at Last"

(B)
8:00 p.m.-

"A Stop at Willoughby"

(C)
8:30 p.m.-

"Eye of the Beholder"

(A)
9:00 p.m.- "To Serve Man" (B)
9:30 p.m.- "Nightmare at 20,000 Feet" (B)
10:00 p.m.- "Will the Real Martian Please Stand Up?" (B)
10:30 p.m.-

"The Monsters are Due on Maple Street"

(B)
11:00 p.m.-

"The Howling Man"

(A)
11:30 p.m.- "The Odyssey of Flight 33" (C)
12:00 a.m.- "The Midnight Sun" (C)
12:30 a.m.- "The Bewitchin' Pool" (F)
1:00 a.m.- "The Dummy" (A)
1:30 a.m.- "Dead Man's Shoes" (C)
2:00 a.m.- "Night of the Meek" (C)
2:30 a.m.- "Night Call" (B)
3:00 a.m.- "A Penny for Your Thoughts" (B)
3:30 a.m.- "Long Distance Call" (C)
4:00 a.m.- "Little Girl Lost" (C)
4:30 a.m.-

"The After Hours"

(A)
5:00 a.m.- "The Little People" (D)
5:30 a.m.- "Caesar and Me" (F)
--Jordan Prejean